What is an African Safari?
An African safari is a joyful, safe, and exciting adventure of refreshing
newness and learning, of natural beauty and of cultural history. A
safari can be as active and as participatory as you wish. Your safari
will be warm smiles and firm handshakes. It can be art, dance, ancient
traditions and music. A safari will always be wildlife, and not just placid,
innate wildlife, but wildlife of action, behavior, cute and cuddly and
death and life. Its all so easily accessible and welcoming.
What is an African Safari experience really like?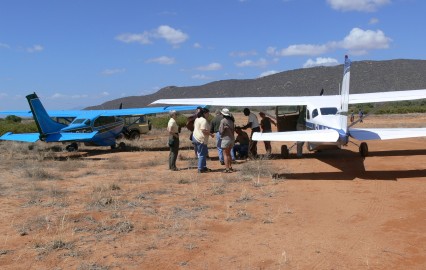 Flying
One of the great beauties of Africa is that it is not the United States, England, Italy or Canada. It is still very much Africa. That does mean, however, that the roads and transport systems are crude, can be bone jarring, or totally non-existent at all.
We will be flying pretty much everywhere. I'll send 4×4 vehicles to the destinations ahead of time, but we will have the speed, ease, and safety of having our own aircraft with us for the entire safari. I'll be personally flying it for you as well.
Camps and Lodges
Accommodation in Africa is every bit as diverse as its land and peoples. You can sleep on the ground under a blanket or stay at a spa resort, in your own cottage, complete with its own butler, chef and masseuse.
Somewhere in between those two extremes is a nice place to be. I tend to use a good mix of private luxury camps and small boutique lodges.
In the parks the private camps, complete with flush toilets, how showers, and five-star food, are ideal. You are not "removed" from the environment, you get to hear the lions at night and, perhaps, have the elephants stroll through our camp.
In a number of places the small private lodges are truly ideal for accessing the wildlife and the culture. The quality of such places is fabulous, as are the meals and the personalized service.
Once we've determined where you will be on safari we'll start working on where you will stay.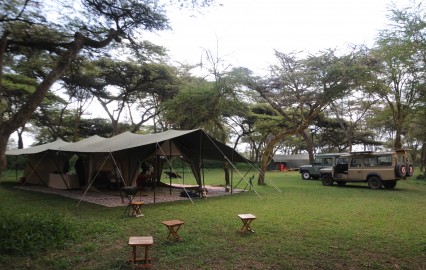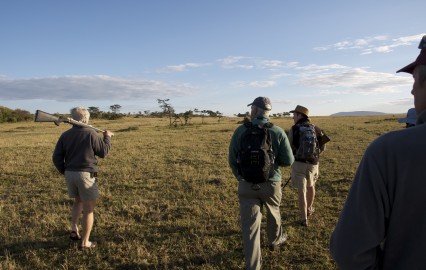 Walking
Its easy to safely stroll across the African plains, easy to spend time on foot with wildlife; and it offers and exciting, fun and very "real" way to observe game. A walk in Africa is also a lovely and peaceful way just to breath in the continent and feel it all, free from the confines of the landrover. Suddenly you are far more alive, more aware. You see the half hidden animal track, you notice the exquisite little flower, the light scattered through the grass tops, the clouds playing off the distant hills. Sitting on a cluster of rocks while a million wildebeest amble below you is priceless and valuable experience.
Spending time on foot, moving slower, more in sync with the world, is time very well spent. We carefully choose where we walk and when, and I'll always have a rifle along just to be extra safe.
Horseback and Camels
Riding slowly out across and endless plain at first light, with the wildlife barely moving out of the way for your horse, is a sublimely beautiful way to start the day. Somewhat surprisingly, all the antelope are completely accepting of a horse and rider, and though its often difficult to photograph from horseback, sitting in the saddle and watching the African world go by is stunning.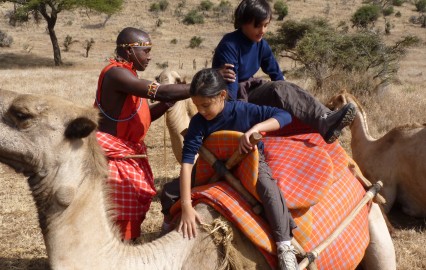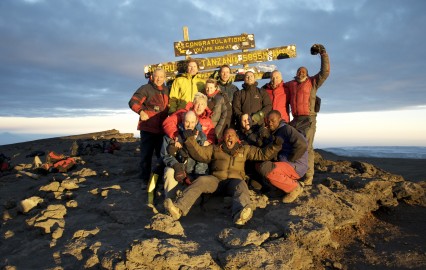 Mountaineering
East Africa has wonderful high mountains, and I'm a happy boy there (credit my years in Montana and Wyoming for that). I climb Mt. Kilimanjaro, the highest mountain on the continent (19,340 feet) at least once or twice a year, often am on Mt. Kenya, and love exploring the Rwenzori's in western Uganda.
Usually a climb here is part of a more traditional wildlife safari, but I'm more than happy design whatever works best for you.
Motorcycle
I've been riding motorcycles as my main means of road transport since I was a grade school boy. I still love it and love visiting the small villages, the vast openness in between them. Its just great, to put it simply, to ride in to some town, pull over, walk around, find a little hole-in-the-wall restaurant, eat, talk with the locals, and then blast off to the next town.
You mix that up with a few wildlife parks, touring through the mountains, staying at a wine estate, and then driving to the next village, and you have a heck of an adventure.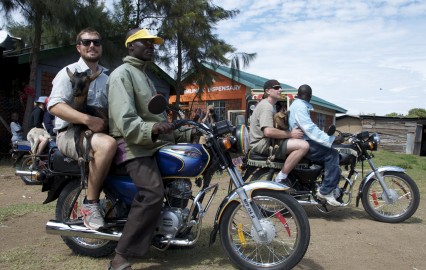 More about African Safaris
Africa is incredibly diverse, its land includes blistering deserts and vast and unexplored rain forests. Africa has glaciated peaks and barrier reefs. You can watch a fashion show will drinking champagne or drink milk and blood with people that may never have seen a western face before. Kenya, alone, has more than forty tribes and forty different languages, and Tanzania has close to eighty distinct cultural tribes.
The largest land mammal migrations in the world occur in East Africa, comprised of over two and a quarter million large mammals. There are almost twice as many bird species in East Africa than naturally occur in North America.
One can stand on top of Mt. Kilimanjaro, at 19, 340 feet, with the temperature at 25 below zero and be scuba diving in the Indian Ocean the very next day!
We will happily help you plan what is best for you, and design the best way for you to see, and get involved with, East Africa.
Where is an African Safari?
Countries to visit in East Africa include:
Kenya
Tanzania
Botswana/Zimbabwe
Ethiopia