Mark Ross Safaris
The actual guiding of an African safari is, truthfully,
a very odd job if done well. Professionally guiding
a private safari requires a unique combination of vast
knowledge, the love of teaching, devotion to each
guest's needs and expectations, and, in Mark's case,
a love of photography, animal behavior and flying.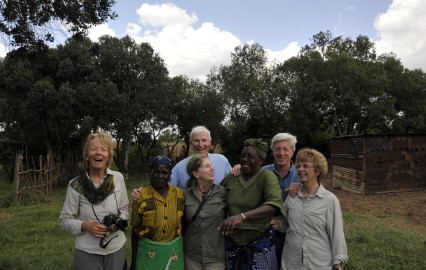 Mark truly loves, and deems it vitally important, to get his guests, both children and adults, "involved" with their safari. He puts them out on the ground, in the villages and huts, riding and walking through the environments, and not just sitting passively in the vehicles waiting to be showed the wildlife. Ross Safari drivers have been with Mark Ross for decades, are exceptionally knowledgeable and can give great guidance from inside the vehicles which allows Mark to remain always perched atop the land rover watching and looking for the next best spot. Tracks, birds, wind, bones, animal droppings, water, all are clues on the map of the day's adventures.
Mark Ross loves his work and has no end of enthusiasm and energy for it.   He learns something new every safari, and enjoys sharing what he already does know with his guests. Each morning, before the guests and he set out on their planned daily activities, he assesses the weather, the wind, the animals, the general surroundings, and looks to make a plan of action. Subtle changes can make a world of difference in a daily experience and as he guides privately he is able to make changes quickly and efficiently with the guests so that they get the best possible experience each day.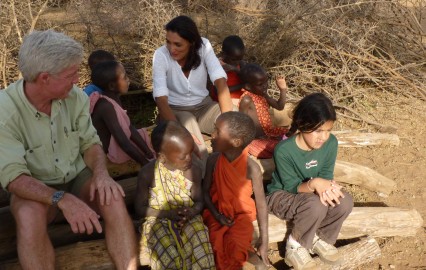 On a Mark Ross safari we are always ready and looking to make that day's safari adventure and holiday work for every member of the group.
A Ross Company Safari IS:
traveling as an insider, meeting "old friends", be they wildlife or people
a custom itinerary individually designed for each group, refined over months prior to your arrival
flexible as it needs to be based on variables of the guests, the weather, the animals, etc.
variety each and every day
a full experience of East Africa and all that it has to offer.
comfortable, companionable, world class and memorable
on all levels with incomparable service and support.
A Ross Company Safari is NOT:
an unguided minibus with an untrained and uninterested driver
a set schedule with a fixed daily routine
traveling in a poorly provisioned vehicle
quickly jumping from one wildlife sighting to the next
following the steady stream of minivans and vehicles from spot to spot in hopes of finding animals
a boring, rigid trip, staying in mass market hotel
long bouncing days on low quality roads between parks
traveling on "the outside, looking in"
unless that is what you choose, day after day of game drives
What Sets a Mark C. Ross Safari Apart
It is Mark's various skills, combined with simply loving being out in the bush, and seeking creative opportunites that makes a Ross Company Safari so successful and so very different. There is no place Mark would rather be than "in the field and teaching". East Africa is his home and he has made it his life's mission to share it in its entirety with his guests.
Mark C Ross is an armed opportunist. He is armed with a vast amount of knowledge on the many aspects of East Africa (ranging from zoological ethology to geology, astronomy, tracking skills, tribal and cultural history, local language, published photographer, etc.) and is always searching, with eyes, ears and nose, for an opportunity to teach some facet of Africa; be it traditional peoples, wildlife, ornithology, geology, botany, history, or how to track a leopard.
Examples Mark C. Ross Gives of Being an "Armed Opportunist"
Having a whole group exit the vehicles to track when we've suddenly come across "drag marks" of a leopard pulling a kill across the track, being followed by lion and hyena.
Taking everyone out fishing with the locals on Lake Victoria, when the fishermen just happened by offshore from our lodge.
Following a cheetah, at a discreet distance, and eventually having her pull her tiny kittens out of a hole and laying them on the grass beside our vehicle.
Arranging for a father and his two sons to spend the night in an authentic Samburu manyatta when the guys showed a big interest in the life of the Samburu.
Getting the kids into a restaurant so that they can learn how to cook local food.
Going after lions and then, during a brief stop, hearing vervet monkeys barking their "leopard alarm" call about a mile away. Quickly breaking off, heading for, and finding that leopard.
Finding a leopard on a kill, while we were out on a walk, and then arranging to build a small blind nearby, and coming back, with our dinner, and spending the night on the ground, watching the leopard and her two cubs as they fed, played and ended up sleeping relatively near us.
Getting young children in the group along with the adults to dance with the Samburu up at Ol Malo.
Children, on the spur of the moment, learning how to milk sheep, goats and camels.
Following two hunting cheetahs, and then coming across a third cheetah that I could tell was nursing young ones.
Driving by a secondary school out near the Uganda border and on the spur of the moment, getting one of my guests, who was a teacher on vacation, into the school and teaching the Kenyans for a few hours.